We are still glowing from the sheer energy produced by our first Experimental Zone event (EZ1), held at De Ceuvel in Amsterdam on May 21. This one-of-a-kind tech/art/theory gathering changed the way we think, reinvigorated our senses, and inspired us to continue on our path to redefine, explore and push the human conception of nature's value.

EZ1 was a collision of technology, art, and theory, all in service of rethinking the ways we approach, experience, and represent nature, and working to enable nature to become self-sustaining and thriving in the 21st century. It sounds high-minded. It was also immensely fun.
This event attracted local and international attendees, featured speakers from around the world, and convened unprecedented meetings between tech developers, artists, and thinkers. Our gathering was as wide as the ever-more-wired world and as small as the electric current passing between individual roots in soil. Its heart was the connections between people that sparked curiosity, memorable seeds of ideas that will sprout and grow in the months and years to come.



Watch a video covering the event highlights here.

The Experimental Zone showed off SNI at our best, and as a convening organization we are truly at our most effective when we are in deep collaboration with trusted partners. De Ceuvel was just such a partner. This unique institution, a radical architecture/ecology laboratory in the heart of North Amsterdam, is dedicated to ecological principles of rewilding and focuses on using native grasses to remediate the highly polluted soil of this former shipyard. The buildings onsite are made from former houseboats, bought a decade ago for €1 each and painstakingly transformed into art galleries, studios, offices and a café. The space hums with life and has the feeling of a reclaimed industrial space—cast-off things reused by brilliant resourceful humans, while nature in the form of grasses and trees grows into, around and over everything. It was the perfect spot for our more-than-human celebration.


An Eco-Techno-Crypto-Artist-opia
We started out with a welcome from SNI's CEO Catherine Bischoff kicking off the event. She set an ambitious tone invoking the idea of our organization as a central nervous system for a living organism that is the world's radically experimental environmental movement. She envisioned de-centralized ecological collaboration, like a rhizomatic or fungal network, on a global scale.

The Germinator teams went next — tech development groups from around the world that each presented a five-minute pitch for a new web3 technology that could directly benefit the ecological mission of De Ceuvel. We were next provoked by a beautiful presentation by Harpo 't Hart from the Embassy of the North Sea imploring us to consider the frigid sea itself a sovereign nation. As if on cue, in the midafternoon, a cool wind blew in from the very same Sea. Some speakers wrapped themselves in blankets, but were undeterred from sharing their vision. In our Art Talk, Barney Steel, Daniela Gandorfer, Olav Huizer, and Ana Prvački spoke of the potential of digital representation to bring humans and more-than-humans into intimate, empathetic understanding. The Tech Talk brought together Robert Fletcher, Andrea Leiter, Angela Kreitenweis and Trent McConaghy for a stimulating conversation about economic models and the promise and peril of web3 solutions for ecological goals.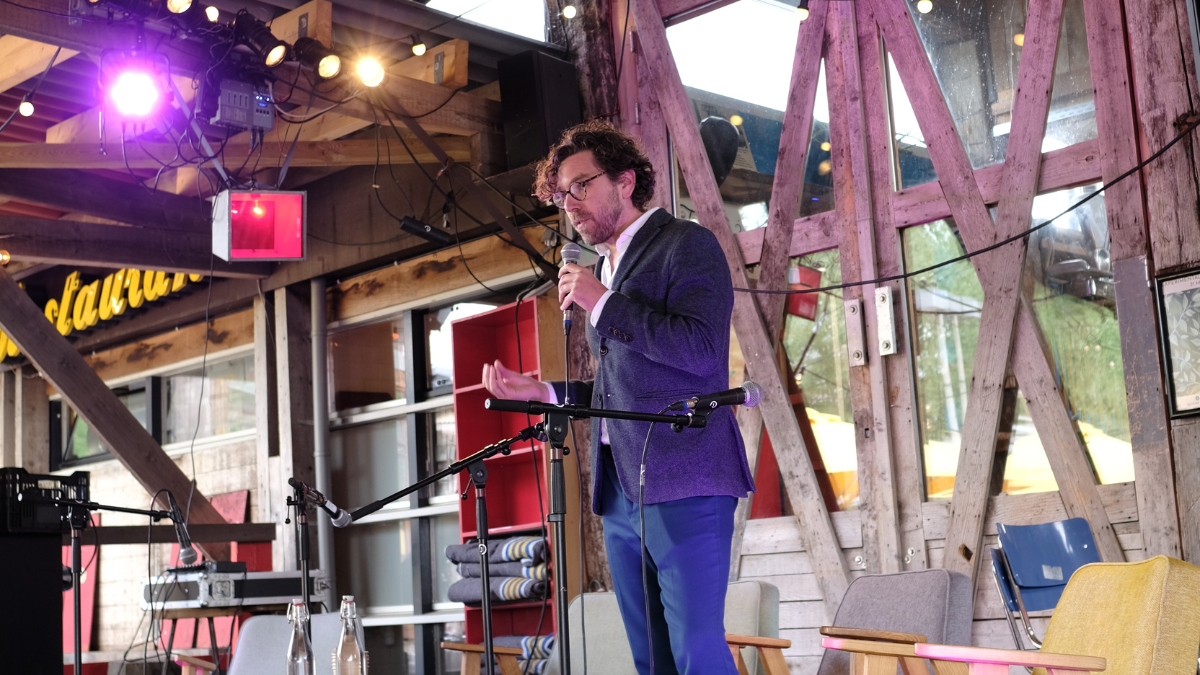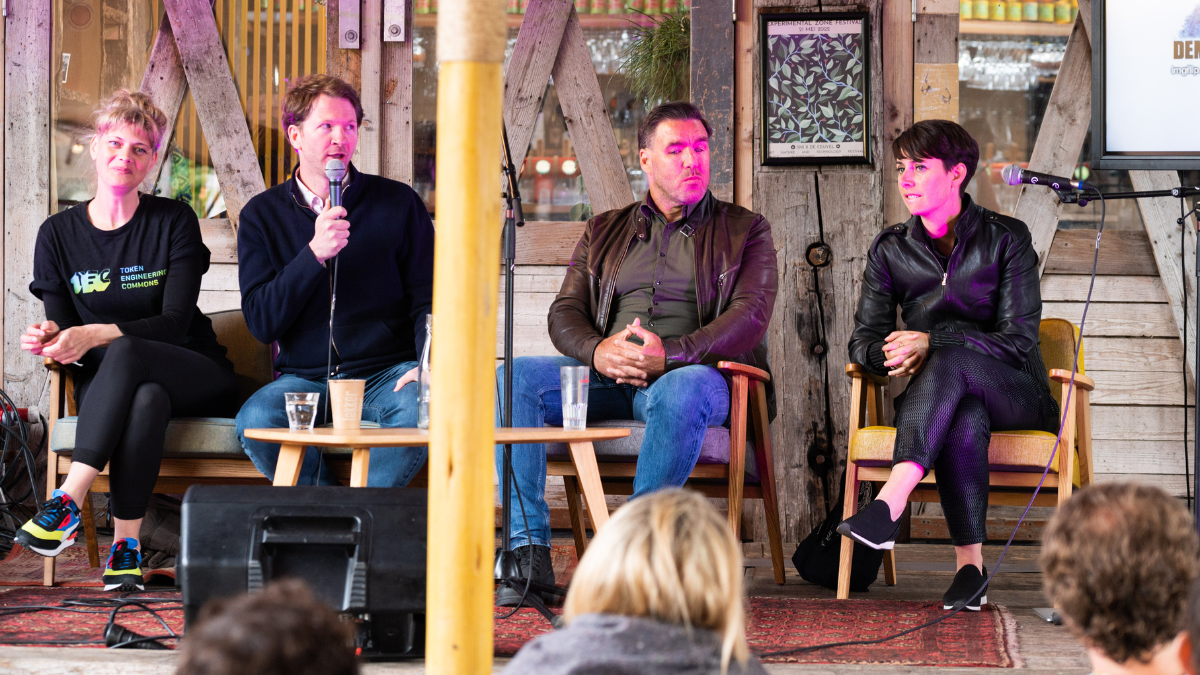 As the presentations proceeded, the larger event became a festival, a space for open exploration. Guests walked along De Ceuvel's famous raised boardwalk reading signs about the phytoremediating grasses growing all around them, removing pollution from the shipyard. The extraordinary sounds of folk band WYNNM resonated among the trees as dancers from Dutch troupe Sirens who represented the sounds of the sea dangled off a plane tree, which also bore a sensor feeding live data into an art installation by Momentum/WERC back in the Gallery. In De Ceuvel's beautiful Crossboat space, visitors marvelled at Nature Cognita's beautiful plant-electricity installation, and also breathed into a device creating original digital images through the vivid and pointedly political artwork by Code-X-Diagrams titled Breath For Sale. Many guests rode the custom-built ferry across a canal to the nearby WDSTCK studio where they had the chance to experience Marshmallow Laser Feast's VR experience Treehugger: Wawona, a renowned artwork placing the viewer into an up-close, synesthetic encounter with a sequoia tree. It moved some participants to tears.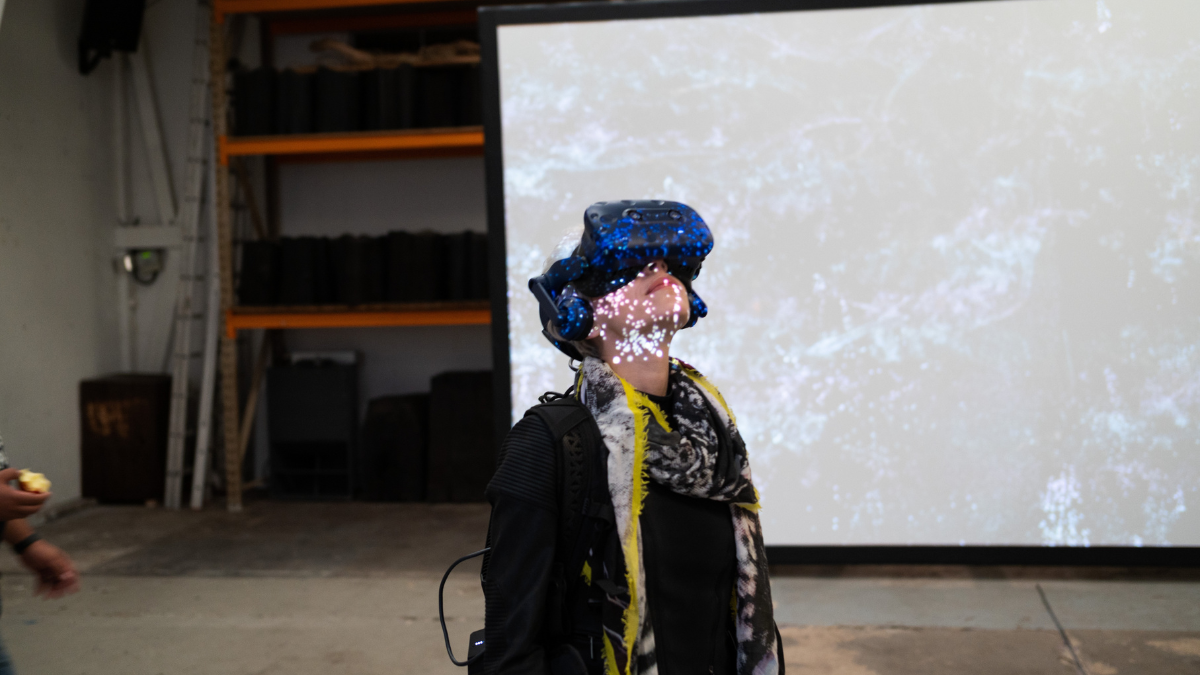 Back on the 'main stage,' Ana Caballero shared her vision of web3 poetry and along with Seth Bockley shared winners from SNI's Nature Speaks! Competition. They were followed by our last speaker, Feifei Zhou, who showcased her intricate and lovely digital publication Feral Atlas, challenging us to see the Anthropocene as an entangled and complex moment in the history of our planet—a time of destruction and threats to global health, but also one of re-wilding collision, weirdness and discovery.

And then we danced. The sounds of Los Calxunxtuyos, Fraktutu, and our DJs Hems and Sentinel Island Disco moved our bodies and spirits.



Towards Entanglement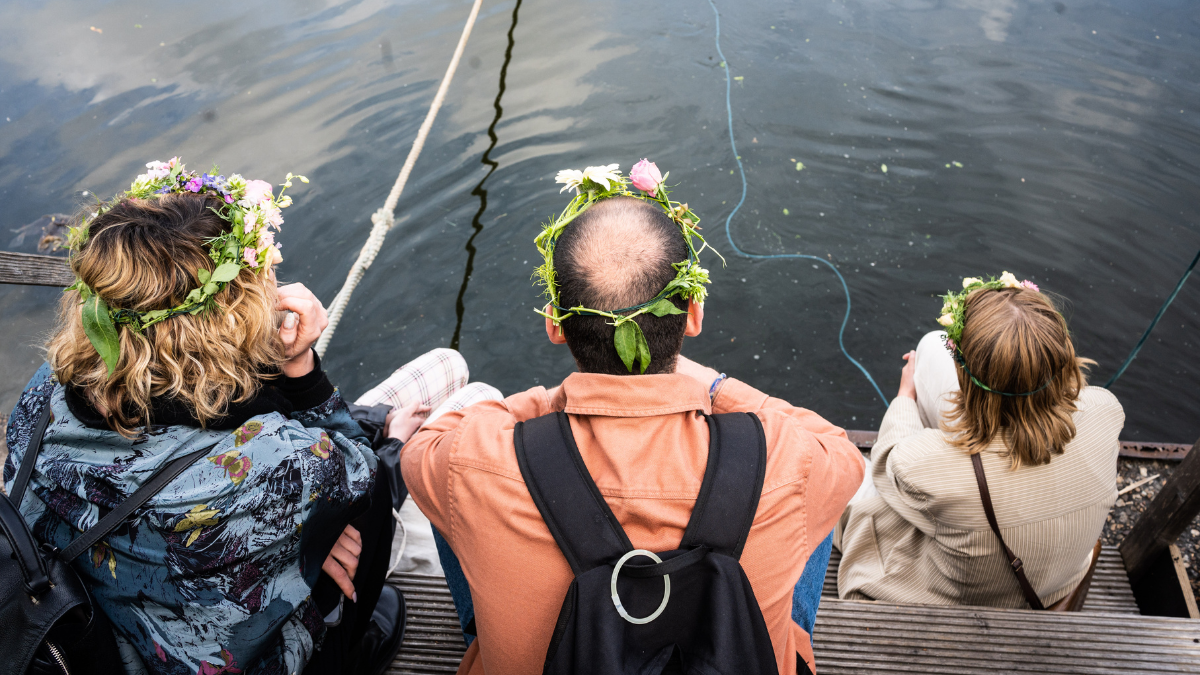 How did it, how does it all fit together? Plasma screens and tall grasses. Apps in beta downloaded next to the Flowerpower face-paint station. Breaths and plant data making unique digital artworks in real time, while across the old shipyard guests are ferried across a canal to a VR experience. A quilt of unexpected encounters and experiences, a decentralized field of play, an Experimental Zone that lived up to that name.

In many ways the most improbable part is that it happened at all. A gathering of 'techies,' artists, curious Amsterdammers from all walks of life where no one approach was central. This was a place where each person knew they were only a fraction of the conversation, where they could learn something across distance, across platform, across language and discipline.



The central question we believe we activated—how to center nature, its value, rights and sovereignty, through culture and technology—resonates and lingers in our minds and somewhere in the waters, skies and grasses of North Amsterdam. We're grateful for the collaboration with De Ceuvel's Esther Weller and Huib Koel, and for all our staff who helped ferry, troubleshoot, set up, take down and facilitate this massive event.



Most of all, we're grateful for the feedback we've received and to know of its impact. Much of it celebrates what was unexpected—"I didn't know what this event would be, but WOW"— and suggests there is appetite for more events like this to come. We've learned a lot about how to convene, host and facilitate connection. May we all become more entangled in the spirit of EZ1 — here is to more Experimental Zones to come.