This essay showcases an entertaining idea to incentivize environmental data collection through gamification in a way that appeals to humans' innate drive of conquest and bounty. Enjoy! – SNI

Space4Good is a big fan and follower of open innovation, which frequently leads us to participate in collaborative hackathons like SNI's Winter 2022 Hackathon Challenge. Over this three-day weekend, we worked on topics relevant to the hackathon challenges and our clients at Space4Good.

We need in-situ data collection to train and validate Space4Good's earth observation models and algorithms. Without this data, we can only share with our partners that something has changed – not what these changes are or why they took place. Accordingly, we need reliable data collection protocols, collection tools to ensure quality output. The quality of this data can vary widely based on the experience and competence of our partners on the ground. This is a significant concern for any geospatial analytics company, like Space4Good.

So how can we ensure more and better quality in-situ measurements for improved monitoring and reporting services?

Our idea: let's make it a game. Not just any game - a pirate game called "Green Sail"! This idea allows us to make data collection and labeling fun, engaging, and impact orientated. In 48 hours, our team developed the overall game and data delivery concept, created a blockchain infrastructure to reward the players and channel ecosystem finances back into nature's pocket, finished a mockup, and published our own pirate song! Check out the game on YouTube to see it for yourself!

Green Sails Description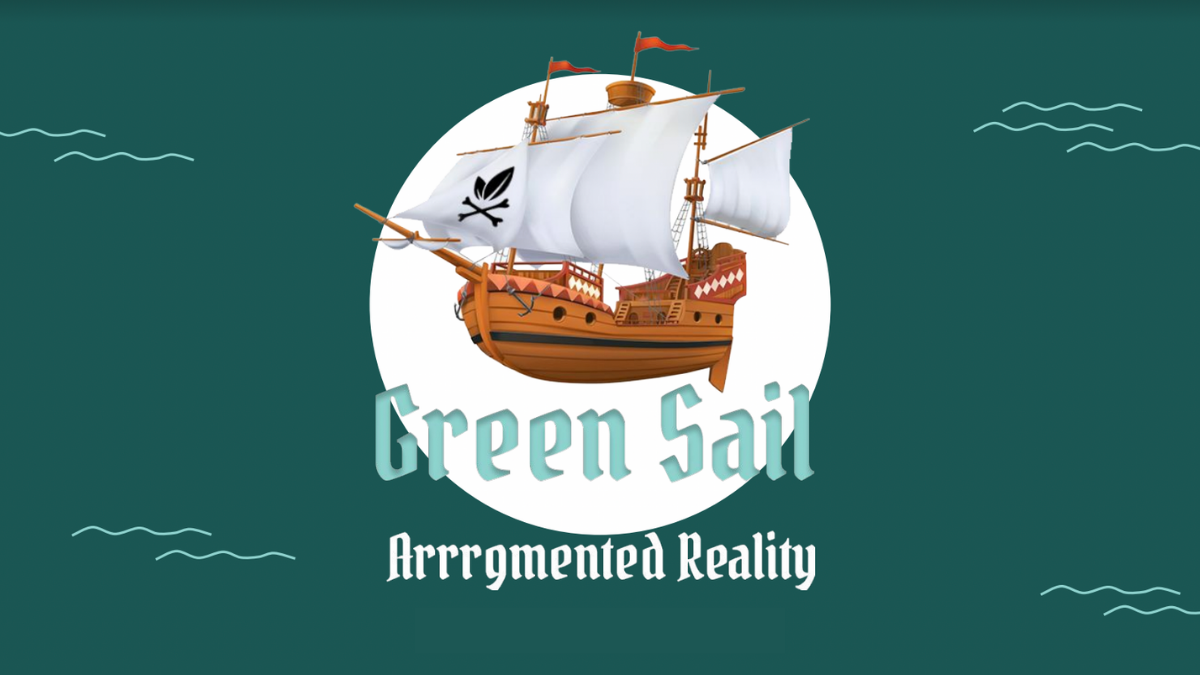 "Green Sail, Arrrgmented Reality" is an engaging pirate game that makes data collection and verification fun and directly relevant to challenges facing conservation agencies, research institutions, and community hubs such as De Ceuvel.

Pirates can choose between different missions:


Explore: Physical data collection using smartphone cameras and data entry (e.g., a picture of the surrounding environment, measurement of tree height, verification of an event)
Conquer: Entertaining mini-games for data labeling and data cleaning in a virtual environment (e.g., spot palm trees, invasive species, land use)
Set Bounty: Report on an issue in the real world that requires further explore or conquer tasks (e.g., deforestation alert, garbage detection, debris)

Pirates are rewarded in-game with Doubloons and Trophies, which are thematically connected to the missions they completed. The number of Doubloons relates to the effort the mission requires, which is determined by time, physical distance, complexity, and the knowledge level of the player. The Trophies cover badges, items, and skins that the player can use for their editable character, ship, and starting island. Doubloons can be exchanged for additional items and are displayed on a leadership board that community hubs like De Ceuvel can decide to use as actual currency for food and services, as examples.

Pirates surpass different levels by completing missions, which allows them to work on more complex assignments. For example, such missions could be verifying the data labeling or input from lower-level players. As a result, the game ensures quality data collection while building a more experienced pirate community.

The collected, cleaned, and labeled data is then provided to the challenge owner and made available to the general public through SNI's partner, Ocean Protocol. Thanks to the game, this data can be used by others working to develop and improve their algorithms. In case the information is being used for conservation purposes, it is made available for free. If the data is used for commercial purposes, the commercial value will be shared with Green Sail to ensure the operations and evolvement of the game. For this, we are making use of existing Gitcoin infrastructure as well our DAO treasury, which will also be shared with pirates in relation to their doubloons.



While initially 'human-led' organizations will reach out to Green Sail to form supporting missions, 'sovereign nature' is already benefiting from the improved data collection and availability through a better environmental understanding. Ultimately, 'nature' will be able to create its own missions triggered by indexed change threshold measured by satellite imagery (e.g., loss of vegetation -> verification need, decrease in NDVI -> in-situ measurements, and so on).

The Space4Good team would like to thank Yannick Zehnder, co-founder of CEVEN, who frequently teams up with Space4Good to connect us to the world of blockchain and Web3. For our pirate-themed data gathering game Green Sail, Yannick contemplated a possibility to incentivize participants outside the typical in-game item rewards. Creating a dedicated cryptocurrency (a "utility token") seemed to be the logical step to take. However, launching 'just another' cryptocurrency doesn't necessarily 'support' nature in any sense. As a result, we decided to set up a system that partially uses existing solutions and introduces incentives for long-term support of the ecosystems of interest.

Together, we decided to use GitHub's "Issues" feature on the codebase to describe tasks, such as gathering in-situ information like tree diameters. We posted these issues on Gitcoin and assigned a bounty (crypto or other currencies and "Doubloons," the in-game currency in Green Sail). Using the Aragon framework, we set up a Decentralized Autonomous Organization "DAO" on Rinkeby Testnet. When a player accepts a bounty and solves the issue, they get rewarded and receive tokens, "Doubloons" from the DAO. Future plans include establishing the DAO as the 'owner' of the data. Whenever data is used, the money would then flow into the DAO treasury. The data monetization is planned to take place via a customized Ocean marketplace. By further monetizing the data and alimenting the DAO's treasury, we facilitate long-term interest in the health of the ecosystems of interest. At one point, we envision the DAO being taken over by the ecosystems directly and using the treasury funds to pay for initiatives that uphold the health and wellbeing of the ecosystems.



Our experiences during the hackathon revealed that many existing building blocks could be linked to support non-human actors towards 'sovereign nature' in a meaningful way. Our experiences also show us that work remains to lower entry barriers for projects and companies that want to work with Web3 tools. Over the weekend, we discovered additional limitations, including the high cost for launching decentralized applications that always occur when traffic clogs networks, such as Ethereum in our case. Finally, the situation around energy use of Proof of Work blockchains is still a topic to be discussed. From our view, it would be contradictory to use a technology that puts a heavy burden on nature while trying to support 'it' in the meantime.

So, what now? We enjoyed switching places with our data collection partners for a weekend and thinking about collaborative ways of generating more and higher-quality data. Having worked on a collaborative, gamified digital elevation measurement (DEM) application beforehand, we know how difficult it is to mobilize communities a fraction of the size of the famed "Pokemon Go" movement. However, perhaps we do not need to start with such a huge group – but can instead build on dedicated citizen science initiatives that are already contributing to standardized and reliable measurements, such as air quality.

Going forward, we will introduce the nature stewards at De Ceuvel to existing open-source data collection tools that they can use immediately. Furthermore, we will follow up with other hackathon teams to see if there is room for collaboration with Space4Good's typical offerings of geospatial analytics for social and environmental impact. In the meantime, all of our code and concepts developed within the SNI hackathon is open-source. We would be excited for a game studio to pick up the idea of combining gaming dynamics with actual real-world impact! De Ceuvel, Space4Good, and several other organizations would be delighted to see more Green Pirates roaming landscapes around the world and collecting valuable in-situ data!

Interested to learn more or collaborate with Space4Good? Visit our website or contact us via hello@space4good.com.



Space4Good is an innovative social enterprise utilizing earth observation for social and environmental good. Combining remote sensing, geographic information services, and artificial intelligence, we map, analyze and model complex ecosystems and support leading organizations and institutions on topics such as environmental crime detection, regenerative agriculture, tropical agroforestry management, humanitarian aid, air pollution, and sustainable urban development.

By doing so, we help impact makers on the ground to make more informed decisions, improve operational efficiency, create data-driven transparency and unlock new revenue sources such as carbon credits. We are a growing team of impact-driven astropreneurs pushing the boundaries of geospatial innovation together with amazing partner multinationals, NGOs, universities, and like-minded social startups like The World Bank, Rabobank, Arsari Enviro Industri, Amnesty International, Red Cross, and Ecosia.