Today's essay imagines an exciting way to explore and represent the liveliness in and of ecological datasets from another winning team of SNI's Winter 2022 Hackathon Challenge… Enjoy! — SNI

Forming a pop-up team dubbed Biocenosis Labs, consisting of Chris Harris and Sarah Friend, along with contributions to concept and 3D art by Matthew Plummer-Fernández, we answered SNI's Winter 2022 Hackathon Challenge call. This three-day event soon led to us to prototyping an Acoustic Ecology Creative Data-DAO to create a regenerative economic flywheel between data of place and spirit of place.

We started by answering these questions:


How can we learn about the existing governing rules of ecosystems?
How to represent and engage with mutualistic sovereignty?
How could we represent a compounding sense-of and participation-in connected ecosystems?

We were inspired by acoustic ecologist Gorden Hempton who suggests that humans' most sensitive hearing range is actually adapted for a non-human species: "Why would our ears possibly have evolved so that we could walk in the direction of faint birdsong? Birdsong is the primary indicator of habitats prosperous to humans."

Thus we turned our ears and our smartphones towards bird sound as an ecosystem health indicator and a representation of overlapping ecosystem boundaries.

We specifically sought to address the following points:


Monitoring ecosystem health via soil samples sent to a lab is costly, hard to scale, and removes us from the situation.
Out of sight, out of mind: many urban dwellers lack participation with wider nature making it hard for us to serve the ecosystem intrinsically.
Continuous sensing of nature is a precursor for effective design of regenerative feedback loops.
Economic incentives often take the place of other activities and dissuade our natural curiosities from discovering nature.
Ecosystem boundaries that don't follow human legal and national boundaries are poorly understood.
Project Solution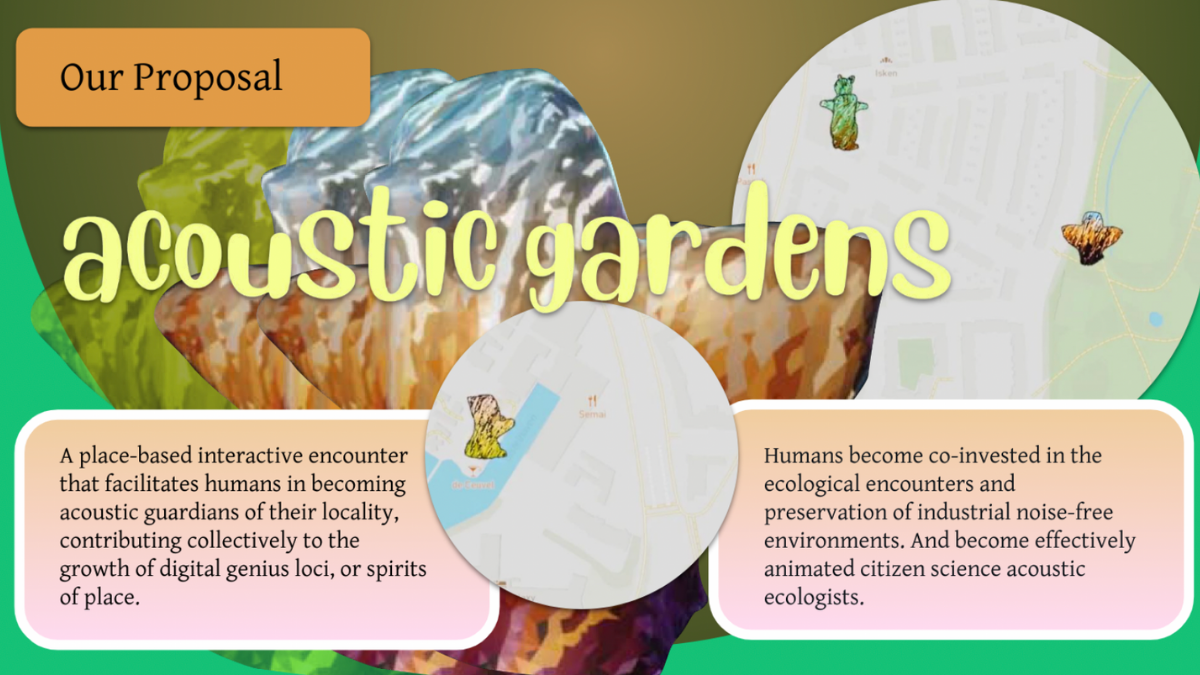 To address the issues outlined above, we presented and prototyped an ecosystem of software combined with experiences. We focused in particular on inter-being, the representation of more-than-human territories, and creating virtuous feedback loops for rewilding.

Our App

The human-facing web app is purposefully minimal, ideally meditative. Users 'play' as an Acoustic Guardian with their smartphones. As a user, you would go out of your home, away from other screens, and visit somewhere likely to have a moment of more bird sounds than industrial noise. You would then use your smartphone to record a minute of audio. If the audio is classified as "natural noise" and no human words are detected, the audio will then be submitted to our dataset.



Data Ecosystem

Ocean Protocol inspired us to suggest a web3-enabled data economy, where a user consents to their recording being included and receives a share in their royalties when used for the following purposes:


Downloads: Licensable and anonymized subsets of geotagged data (e.g. Songbirds in Spain).
On-Premise: Creative and scientific processing can be run over the whole dataset without the data leaving the collective ownership and control of the users. This can be done via Ocean's self-hosted 'Compute-To-Data' platform, where data processing scripts can be run on the server, in our case, for a subscription fee.

Data Insights

The Genii Data Loci, 'Spirits of the place data,' or just Data Loci for short, is a term Sarah and I coined referencing the exploration and representation of liveliness in and of ecological datasets. Whether for generative digital art, scientific simulation, or anything more animated(bestowing of life) than bar charts and graphs. With a rich dataset of participatory ecosystem observations, we imagine representations of the spirits in place data via deploying neural networks to create ambient music tracks from ecological sounds and generate evolving 3D art from acoustic parameters and personifying aggregate life in sounds.

Proof of concept generative 3D Genii from audio place data by artist Matthew Plummer-Fernández.




The hope in animating digital data is to create a feedback loop between our inevitable digital lives and our natural encounters. These digital representations would be driven by participation and only evolve along with the continued contribution of encounter data.

Feedback for Earth-Positive Economics

With a network of crowd-sensing acoustic ecologists on a web3 framework with programmable money, we can start to approach Programmable Conservation, a potential subset of ReFi/Regenerative Finance.

We omit the implementation of hard-coded regenerative tokenomics from this initial exploration. Creating incentive mechanisms without adverse second-order effects or gamifiable mechanisms are outside of the scope of a weekend hackathon, but we plan to further explore:


Generating limited edition audio/visual collectibles from local traits and global traits in acoustic data and distributing these as NFTs.
Generating and curating audio tracks à la Cosmo Sheldrake's Wake Up Calls and automatically uploading them to Spotify with royalties for those whose samples were used.
Generating meditative soundscapes and licensing them to apps that use them.
Creating a radio station web app with in-app purchases to listen to acoustic data far away from your current location.
General dataset licensing for scientific use to institutions.
Creating a monthly subscription for accessing data processing that can be run on-premise without the data leaving our user's control via Ocean Protocol's server.

We would additionally like to explore biodiversity payouts, where some profits from the data-uses mentioned above are held in escrow and only released to the guardians that repeatedly frequent places, where biodiversity is sensed to have increased over time, and therefore biasing pay-outs to regenerative land stewards who are frequently sensing and working on the land over time to improve its health.

We plan to focus first on rewarding the listening. After we're all sensing nature more, will we be better positioned to act systematically on her behalf.

On Sovereignty

To the Biocenosis team, nature sovereignty means treating collectives of species and terrain with dignity, along with reconciling our late human abstractions to include other beings in our systems of global decision making and cooperation.

The historic use of the word sovereign betrays some of its divisive national past, as Immanuel Wallerstein expressed: "Sovereignty is a hypothetical trade, in which two potentially (or really) conflicting sides, respecting de facto realities of power, exchange such recognitions as their least costly strategy."

This kind of dualist sovereignty is not what we should aim for, as in international law under the 'Limits of national jurisdiction and sovereignty,' the areas of earth that are outside the limits of sovereignty are defined as 'Common heritage of Humanity.' While market pressure may be a short-term fix, in an ideal world we would transcend historic recognitions of sovereignty, to consider Nature as heritage beyond capitalism and financialization, where we safeguard and appreciate the biodiversity and abundance of nature for all future generations. And consider Nature as people, where we protect the earth not as valuable property, but as intimately alive as we are.