It's the spring equinox, a time to think about change… and balance. Our days are equally balanced between light and darkness. In the Northern Hemisphere, winter has ended and spring has officially (and thankfully!) begun. Meanwhile, our friends in the Southern Hemisphere are soaking up their last warm days as they head toward a cozy fall season.

It's time to look forward and backward, inward and outward, and to reflect on the work of our collaborators and partners. Over the next eight weeks, SNI will be publishing ideas, stories, and insights from the winning teams of our Winter 2022 Hackathon Challenge, held from February 4-6. This three-day virtual event served as an unusually collaborative and mindfully provocative competition for everyone involved.

Winners and runners-up teams split 5,000€ fiat from SNI, 10,000 $KSM, 2,580 OCEAN, and $10,000 worth of POP, while the rest of the participating teams split the remaining amounts of OCEAN and POP as rewards for their brilliant and diligent work throughout the event. This hackathon served as a hub of conversation and inspiration to think about software and technology in relation to the gigantic question of valuing nature and how to 'flip the economics' to accurately represent nature's value.

Our February hackathon challenge was based on the question of how technology can help us break the cycle of human domination over 'nature' and go beyond common sustainability approaches. We asked participating teams to design governance models to empower ecosystems to act in their own interests and to produce and capture value in their own right. This challenge was inspired by the environmental work being done by SNI's partner, De Ceuvel, an innovative land-trust and ecological/architectural project located on a former shipyard in the North of Amsterdam.

Our hackathon experience was hosted in SNI's brand new metaverse, created by our friends at Odyssey Momentum. In addition to the coding and ongoing collaborations, hackathon activities included a mindfulness session led by De Ceuvel Nature Park Steward Anke Wijnja, a creative writing workshop hosted by SNI's Writer in Residence Seth Bockley, and appearances by technology, economy, and ecology experts. On the final day, teams all over the world, from Berlin to Bangalore to British Columbia, pitched their solutions to our esteemed panel of judges. Ideas ranged from a pirate game that incentivizes environmental data collection through gamification to the creation of 'acoustic gardens,' to systems allowing nature to receive tokens for the use of its data, and several more ideas that challenged everyone to rethink nature as a paradigm.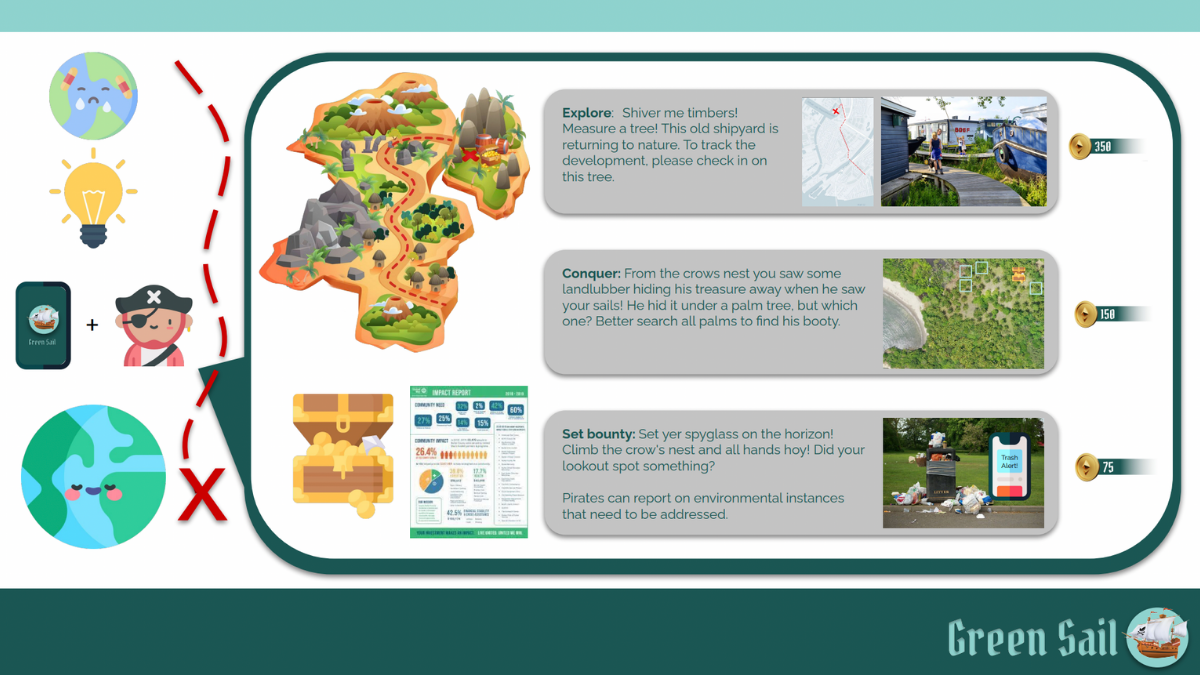 Eight teams collected the winner and runners-up awards in this competition, in addition to three teams receiving the "Most Collaborative" prize, a generous 750€ provided by Odyssey Momentum. Space4Good, Biocenosis, and Nature Data Union were the top three winning teams. Our five runners-up teams consisted of Recheck, Centree, Sattva (Curl Analytics), ORGO, and Hyphal Network. It's important to note that all teams innovated beautifully and contributed thoughtfully to the discourse in our community hub over the weekend.

Over the next few months, the top hackathon teams will participate in Sovereign Nature Initiative's first-ever "Germinator" program to build their ideas into working models and prototypes. These ideas will be showcased at SNI's "Experimental Zone Event #1," our first public event in Amsterdam on Saturday, May 21. More details to come out later this week – stay tuned and register here if we've already piqued your interest.

In the meantime, it's the Equinox, and we recommend watching the seasons change – for whichever hemisphere you're in – accompanied by the SNI Tech for Nature Essay Series. We'll publish reflections and essays in the order listed below every week for the next eight weeks.

Happy Equinox from SNI!



SNI Tech for Nature Essay Series Publishing Schedule